ec2-3-236-126-101.compute-1.amazonaws.com | ToothyWiki | RecentChanges | Login | Webcomic

---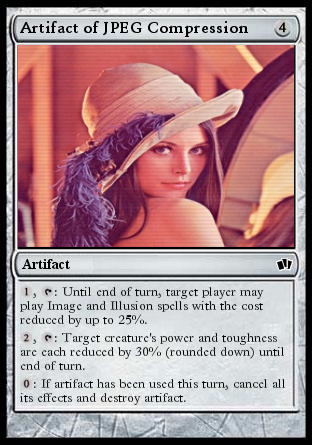 [Enhancement of JPEG-compressed images by re-application of JPEG].


That's really quite nifty - better than the simple gaussian blur which is normally used. --Vitenka


I'm sorry, I'm sorry, I resisted for as long as I could... but the pull of the WikiMtGConspiracy is strong...

What's 25% of U3?


B2 (it doesn't compress particularly well, and looks a bit different afterwards). HTH, HAND. - MoonShadow


Worryingly, as of MagicTheGathering/UnhingedSpoilers, partial mana costs now work - though previously printed cards only include halves. --Vitenka

Cool presentation - would it be possible to use [Lena] for the picture? ;) - MoonShadow
Noooooooooooooooooo.

Actually, yep.

---

CategoryAwfulPun, CategoryAlexShouldBeAshamedOfHimself? :p

---