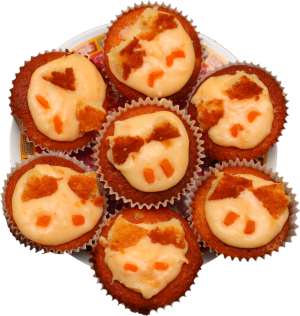 100g/4oz butter
100g/4oz sugar
2 medium eggs
100g/4oz self-raising flour
1 heaped tablespoon apricot jam

For the icing:
75g/3oz butter
200g/8oz sieved icing sugar
Apricot jam
A few dried apricots

Cream butter and sugar until light and fluffy.
Beat in eggs and add flour.
Stir in apricot jam until well mixed (you can also add a few chopped dried apricots).
Fill baking trays with paper cupcake cases and put approximately two tsp of mix in each.
Bake at 190C (375F) for about 15 minutes until cakes are risen and golden brown.
Remove from oven and leave to cool.

To make the icing, cream butter and icing sugar, then add apricot jam until mixture is smooth.
Once cakes are cool, cut a circle from the top of half of them. Cut this in two, then two again to make two sets of ears.
Put a generous helping of icing on each cake, and add ears.
Use chopped dried apricots to add eyes.

This recipe works with gluten-free self-raising flour.