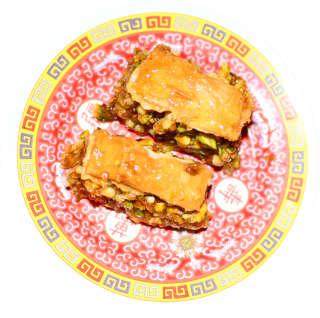 For the syrup:
500ml water
600g sugar
Juice and zest of two lemons
1 tsp vanilla essence

For the pastry:
250g butter, melted gently (groundnut oil can be used instead if preferred)
Approximately 560g puff/phyllo pastry dough


For the filling:
150g finely chopped pistachio
150g finely chopped walnuts (other nuts can be used)
1tsp ground green cardamom (6-8 pods)
0.5tsp ground cinnamon (fingernail size piece of bark)
2tsp sugar
pinch salt

Put syrup ingredients in a pan and bring to the boil.
Turn heat down to simmer, stir until sugar dissolves.
Keep simmering until volume has halved (may take half an hour or so).
Allow to cool completely before use.
When syrup is cool, mix all filling ingredients.
Pre-heat oven to 180C.
Grease a 9"x11" tray (size is important; the baklava must fill the tray exactly).
Roll out a layer of dough, place in tray, grease with butter. Repeat.
Spread half the filling as evenly as possible.
Do two more layers of dough, greasing each time.
Spread on the rest of the filling.
Place the last two layers of dough, greasing each time.
Carefully cut the top two layers into a diamond pattern.
Bake for 30-40 minutes until golden and crisp. Turn off oven.
Pour on about a third of the syrup, following the cuts.
Put back in the (off, but still hot) oven for five minutes.
Pour on another third of the syrup, favouring the cuts.
Leave to stand for 5 minutes.
Pour on the remaining syrup.
Leave to cool and set completely for several hours before cutting into pieces.

This recipe works with gluten-free pastry.