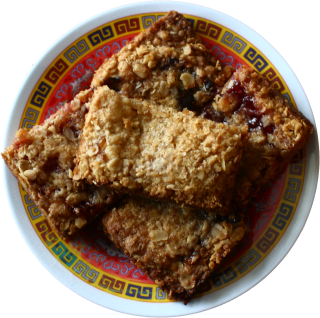 150g demerara sugar
125g self-raising flour
A pinch salt
100g porridge oats
125g butter
A pot of berry jam


Heat oven to 180C. Grease and line an 8" square tin/tray.
Mix demerara sugar, flour, salt and porridge oats in a big bowl. Rub in butter.
Press 3/4 of the mixture into the tin. Spread the jam thinly over this base, leaving a space at the edge (because it spreads), then sprinkle on the rest of the mix and press it down lightly.
Bake for 35-40 minutes until lightly browned. Leave to cool completely before cutting.

This recipe works with gluten-free self-raising flour.