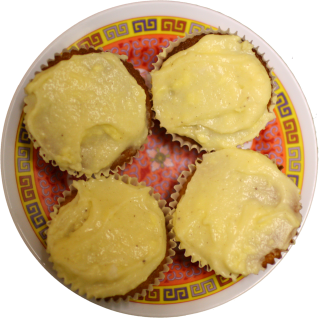 150g/5.5oz self-raising flour
Pinch of salt
150g/5.5oz caster sugar
6 tbsp milk
2 eggs
150g/5.5oz melted butter
4 tbsp apple puree

For the icing:
50g/1.75oz cream cheese
60g butter
1/4 tsp ground cinnamon
90g/3.75oz icing sugar




Whisk milk, eggs and butter together.
Gently stir in flour, salt and sugar.
Fold in the apple puree.
Fill baking trays with paper cupcake cases and put approximately two tsp of mix in each.
Bake at 200C (400F) for about 20 minutes until cakes are risen and golden brown.
Remove from oven and leave to cool.

To make the icing, cream butter and cream cheese together then beat in cinnamon and icing sugar until smooth.
Chill icing in fridge for 15 minutes, then spoon generously onto the cooled muffins.