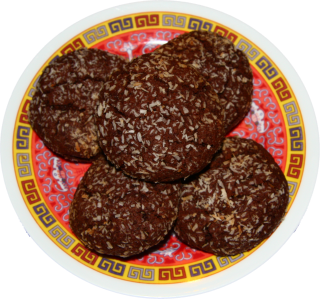 5tbsp sunflower oil
225g sugar
2 eggs
1tsp vanilla essence
175g self-raising flour
55g cocoa powder
30g desiccated coconut


Mix oil, sugar, eggs and vanilla essence, then stir in flour and cocoa until thoroughly mixed.
Leave for at least 3 hours at 4C (i.e. in the fridge, although Kasalya probably just puts hers outside).
Roll tablespoons of the mix into balls, roll them in the desiccated coconut until covered, and put on a greased baking tray with space to spread out.
Bake at 180C for 15 minutes, no more, no less.
Remove from oven and leave to cool.

This recipe works with gluten-free self-raising flour.