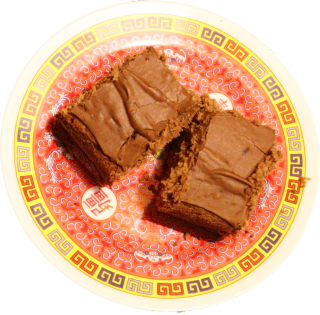 100g/4oz butter
200g/7oz sugar
50g/2oz plain chocolate
2 eggs, separated
175g/6oz self-raising flour
pinch salt
pinch ground cloves
0.5 tsp cinnamon
0.5 tsp mixed spice
8 tbsp milk
15g/1oz mixed peel


For the icing:
50g/2oz softened butter or margarine
2 tsp cocoa
0.5 tsp vanilla essence
100g/4oz icing sugar (minimum)

Preheat oven to 180C (350F). Grease and line 8" cake tin.
Melt chocolate in a pan with a small slice of the butter.
Cream the rest of the butter and the sugar until light and fluffy, then add to melted chocolate along with egg yolks.
Mix in salt, spices and flour (it helps to sieve them) and blend with the milk until smooth.
Beat egg whites until stiff (until you can hold the bowl upside down and they don't fall out). Fold whites into mixture along with peel.
Pour mix into tin and bake for about 45 minutes until cake is firm.
Remove from oven and leave to cool.

To make the icing, sieve icing sugar and cocoa together and cream with butter/margarine.
Add in vanilla essence, then add more icing sugar until icing mix is a suitable consistency - not too runny. Spread over the cake.

This recipe works with gluten-free self-raising flour.