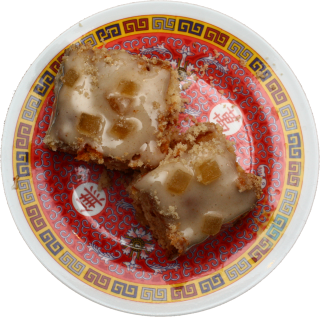 175g/6oz butter
175g/6oz sugar
3 eggs
250g/8oz self-raising flour
1 tsp ground ginger
pinch cayenne pepper
75g/3oz chopped crystallised stem ginger
2 tbsp honey mixed with 1 tsp ground ginger


For the icing:
Half a chilli, seeded and chopped
2 tbsp honey mixed with 1 tsp ground ginger
150g/5oz icing sugar
1 tbsp chopped crystallised stem ginger

If the honey is not runny, heat it gently until it melts, then mix in the 1 tsp ginger.
Cream butter and sugar until light and fluffy.
Beat in eggs and add flour, ground ginger, cayenne pepper, stem ginger and ginger honey.
Mix well and put into greased 9" x 6" tin (or something that approximates that size).
Bake at 180C (350F) for about 45 minutes until cake is firm.
Remove from oven and leave to cool.

To make the icing, steep the chopped chilli in 1 tbsp boiling water for 15 minutes.
Melt the honey if necessary and mix in the ground ginger.
Remove the chilli bits (strain the water) and mix the water with the ginger honey and icing sugar.
Mix until smooth, then spread over the cake and drop stem ginger bits on top.

This recipe works with gluten-free self-raising flour.