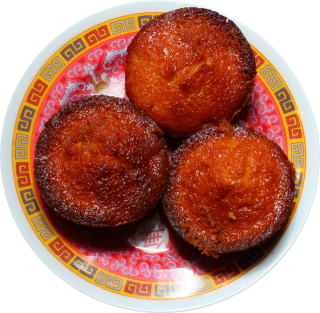 120g/4.25oz self-raising flour
0.5tsp salt
200g/7oz sugar
1 egg, beaten
150ml milk
2.5tbsp vegetable oil
340g/12oz cloudberry jam


Stir together flour, salt and sugar. Make a well at the centre of the dry mix.
Beat egg, milk and oil together. Pour into well in dry mix.
Mix quickly and lightly until moistened - don't beat. Batter will be lumpy.
Gently stir in jam.
Fill baking trays with paper muffin cases and put plenty of mix in each.
Bake at 205C (400F) for about 25 minutes or until golden.