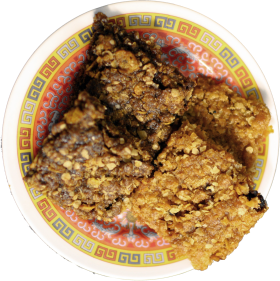 8oz butter
2 tbsp golden syrup/treacle/honey
8oz sugar
4oz porridge oats
4oz self-raising flour
6oz crushed cornflakes
Dates, glace cherries, apricots etc to taste

Melt butter and syrup, treacle or honey; don't let it boil.
Mix dry ingredients together and add dried fruit (about 6-7 dates, or 4-5 glace cherries).
Stir in melted butter until well mixed.
Grease two 8"x12" tins and pat mixture down until firm.
Bake at 190C (375F) for about 15 minutes.
Remove from oven and mark into squares with a knife while still hot. Leave to cool, then break along lines.
Dates and apricots work well in syrup flapjacks, dates and cherries in treacle flapjacks.

This recipe works with gluten-free self-raising flour, oats and cornflakes.