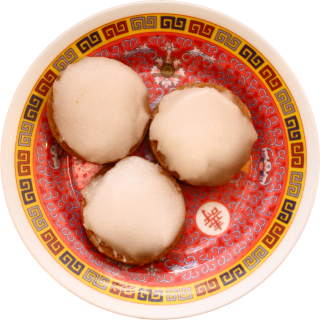 400g self-raising flour
100g demerara sugar
2 tsp bicarbonate of soda
0.5 tsp salt
2 tsp cinnamon
1 tsp ground ginger
0.5 tsp ground cloves
7 tbsp sunflower oil
1 tsp vanilla extract
3 tbsp syrup
2 tbsp water


For the icing:
100g margarine
100g icing sugar
1 tsp vanilla

Mix flour, sugar, bicarbonate of soda, salt and spices together.
Warm the syrup, oil, vanilla and water together in a pan until they mix, then add to flour.
Mix together until fully blended into a rough dough. You may need to use your hands to knead it a bit.
Roll out dough to about 2cm thick. Cut into shapes using cookie cutters and place carefully on oiled baking tray.
Bake at 160C (325F) for 12-15 minutes. Allow cookies to cool, then ice if so desired.

To make the icing, mix margarine, vanilla and icing sugar until smooth.

To make friendly chocolate biscuits, leave the spices out and substitute 50g flour with 50g cocoa powder, user caster sugar instead of demerara, and add 1 tsp cocoa powder to the icing mix.

This recipe works with gluten-free self-raising flour.