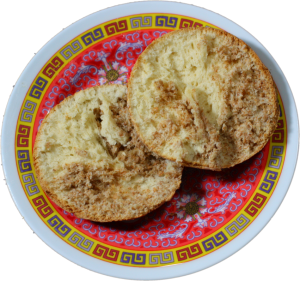 250ml milk
2 tablespoons caster sugar
1 (7g) sachet dried active baking yeast
250ml warm water (45C)
60g melted butter or margarine
750g plain flour
1 teaspoon salt
2 tablespoons cornmeal (polenta)

Warm the milk in a small saucepan until it bubbles, then remove from heat. Mix in the sugar, stirring until dissolved. Let cool until lukewarm.
In a large bowl, combine the milk, yeast, water, butter and half of the flour. Beat until smooth. Add salt and rest of flour, or enough to make a soft dough. Knead. Place in greased bowl, cover, and let rise. If it rises and falls, that's fine too.
Punch down. Roll out to about 1cm thick. Cut rounds with a biscuit cutter, pint glass or empty tuna tin. Sprinkle greaseproof paper with cornmeal and set the rounds on this to rise. Dust tops of muffins with cornmeal also. Cover and let rise 30 minutes.
Either: Heat a greased heavy frying pan or griddle. Cook muffins on griddle about 10 minutes on each side on medium heat.
Or: Bake in oven for about 25 minutes at 400F (200C).
To use, split and toast, in toaster or under grill. Muffins can be frozen.
To get the 'tiger' stripes, halve the quantities and make one half with brown flour and one with white. Mix them together roughly just before cutting.