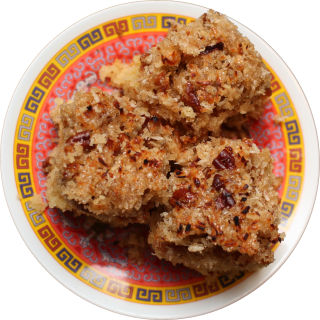 9oz butter
11.5oz sugar
3 eggs
11.5oz self-raising flour
Pinch of salt
2/3 of a cup of milk
1tsp vanilla

For the topping:
5oz melted butter
8oz demerara sugar
4.5oz chopped pecans
3oz coconut
Milk to mix




Melt butter, add milk and bring to boil.
While butter is melting, beat eggs and add sugar, then stir in flour and salt.
Add butter and milk mix along with vanilla, stir until thoroughly blended.
Pour into greased pan (it is a very liquid mixture) and bake at 160C for 55 minutes, until top is golden brown and an inserted skewer comes out clean.

To make the topping, mix together the (melted) butter and the sugar, then add nuts and coconut. If mix is too dry, add a little milk.
Spoon over hot cake and place under grill until topping is browned (careful, it burns very quickly!)

This recipe works with gluten-free self-raising flour.