ec2-3-234-244-18.compute-1.amazonaws.com | ToothyWiki | RecentChanges | Login | Webcomic

---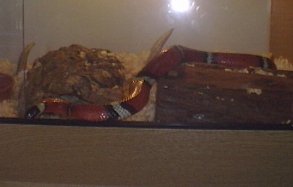 She doesn't just sleep. Once or twice a fortnight she eats a mouse.


Aaaargh keep the slithery no-legs away. And don't ever let it get out of your flat. Ever ever ever ever ever ever ever. - ChiarkPerson


Actually, she's escaped twice now. Both times she didn't go very far, and the cats were absolutely no help in finding her. Quicksand, her predecessor, escaped once but was missing for a whole rather frantic weekend.

---

Cinnamon died on Saturday 27th January, aged ten and a half years.


---

CategoryMonster (yes, really. Some monsters are cute :)

---