Cloud Fairy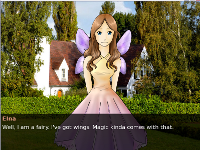 Gary is an everyday boy enjoying his summer holiday, when a strange and mysterious girl walks into his life, claiming to be a cloud fairy!
Cloud Fairy is a small visual novel by Alex Churchill (chronoluminaire). It's about 4000 words long, with five endings, and takes about 10 minutes to play. It was created in one week in July 2009.
Download it
You can download Cloud Fairy as part of the Cute, Light and Fluffy Project, either straight from this site (Windows / Linux x86 / Mac OS X) or from the Ren'Ai Archives.
Tell us what you think!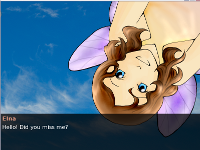 Discuss the game on its ToothyWiki page or its Lemmasoft forum thread! You can comment on either without any form of registration.
Credits
The game is copyright Alex Churchill (chronoluminaire). All character artwork is copyright Morag Lewis (SunKitten). For more of SunKitten's work, visit www.toothycat.net!
The game is written in Ren'Py, an engine designed to make writing visual novels and ren'ai games very easy.
The background music is by Kevin MacLeod from incompetech.com, gratefully used under the Creative Commons (Attribution) License.
The background photos are by the following photographers, distributed via stock.xchng, and gratefully used under Creative Commons licenses:
eduardtrag, jazza, jjarv, luizsilvei, mzacha, O_m, quentinh, ragxyz, svenic, and weirdvis.
Technical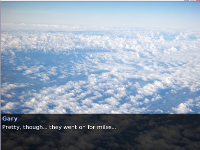 The game runs on Windows, Linux x86 and Mac OS X. In all cases it requires a screen size of at least 800x600.
Controls
The controls should be pretty obvious, but just in case, here they are:
To do this:
Keyboard:
Mouse:
Advance text:
Space bar or Enter
Left mouse button
Make a choice:
Arrow keys and Enter
Left mouse button
Game Menu, for saving and loading
games and changing preferences:
Escape
Right mouse button
Roll back:
Page Up
Mouse scrollwheel up
Hide the text box:
H
Toggle full-screen:
F
Change preference in the game menu
Skip already-seen text:
Press Tab
or hold Ctrl
Right-click, then click "Begin skipping"