When I Rule The World
Welcome!

When I Rule The World

is a ren'ai game, written as part of the first NaNoRenO, the (Inter)National Ren'ai Game Writing Month.
The Game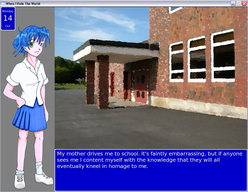 "My name is Selena, and I have been chosen to be the future ruler of the world." She might look like an ordinary schoolgirl, but a secret organisation called The Agency are going to overthrow the world and institute her as ruler of the new world order!
When I Rule The World is a visual novel: gameplay consists of reading the text displayed, and choosing from options at certain key points. The direction of the plot and how the game ends are thus under the player's control.
Download it
Version 1.0, released on 31st March 2005: Initial NaNoRenO release.
Version 1.1, released on 6th April 2005: Bugfix release.
Version 1.2, released on 6th April 2005: Second bugfix release. Download from the Ren'Ai Archives.
Credits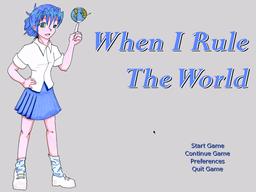 The game is copyright Alex Churchill (chronoluminaire). All character artwork is copyright Morag Lewis (SunKitten). For more of SunKitten's work, visit www.toothycat.net!

The game is written in Ren'Py, an engine designed to make writing visual novels and ren'ai games very easy.

Background photos from the following stock.xchng photographers: Dave Dyet; John Jarvis; Simon Speight; Chantal van Veen; Jeroen Beelen; Dan Tinianow; w4ke-up a.k.a Frederic Carmel;renderz3D a.k.a Terry Lee; weirdvis a.k.a Lynne Lancaster; veralu a.k.a Vera Berard; LotusHead; dillia a.k.a Fira Anuar; and one stock.xchng photographer who requested to remain anonymous.
What do you think?
Discuss the game on its ToothyWiki page or its Lemmasoft forum thread! You can comment on either without any form of registration.
Technical
The game runs on Windows and Linux/Unix. In all cases it requires a screen size of at least 1024x768. The Windows version comes with everything you need to run the game. The Linux version requires python and pygame installed.