Elven Relations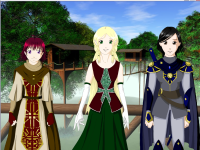 Welcome! Elven Relations is a ren'ai game, completed as part of the third NaNoRenO, the (Inter)National Ren'ai Game Writing Month.
The Game
Takuya is a swordsman in the Royal Army of the Kingdom of Reachfar, who is sent on a unique mission into the Endless Forest to establish displomatic relations with the elven people. Could there be love awaiting him in the depths of the Elvenglade?
Elven Relations is a visual novel: gameplay consists of reading the text displayed, and choosing from options at certain key points. The direction of the plot and how the game ends are thus under the player's control.
It's a romantic fantasy story split into 6 anime-style episodes, and features 45000 words of dialogue, 15 event/ending CGs and 8 different endings.
Download it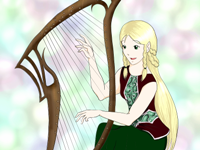 Version 1.0, released on 31st March 2007: Initial NaNoRenO release.
Version 1.1, released on 4th May 2007: Added combat engine, CG gallery, several other minor tweaks and additions.
Version 1.1.1, released on 5th May 2007: Fixed a bug in the combat engine in v1.1.
Version 1.1.2, released on 7th July 2007: Fixed another bug in the combat engine in v1.1.1.
Download version 1.1.2 for Windows / Linux x86 / Mac OS X (each distribution is about 83 megabytes)
For the bandwidth-conscious or those playing without sound, there's also a silent version available:
Download the silent version of v1.1.2 for Windows / Linux x86 / Mac OS X (each distribution is about 29 megabytes)
You can also download the game from the Ren'Ai archives.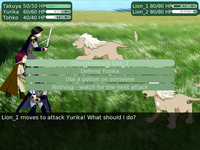 Desktops
There are seven Elven Relations desktop backgrounds available for download.
Tell us what you think!
Discuss the game on its ToothyWiki page or its Lemmasoft forum thread! You can comment on either without any form of registration.
Credits
The game is copyright Alex Churchill (chronoluminaire). All character artwork is copyright Morag Lewis (SunKitten). For more of SunKitten's work, visit www.toothycat.net!
The game is written in Ren'Py, an engine designed to make writing visual novels and ren'ai games very easy.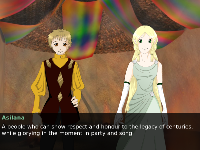 The background music is by Celestial Aeon Project, Kangaroo MusiQue, Dream ED, and Olga Scotland, distributed via Jamendo, and gratefully used under Creative Commons licenses.
The song Centuries' Tales is copyright Rachael Churchill and Amy Robinson.
The 3D background art is copyright Dave Ross (Tsunami).
The background photos are by the following photographers, distributed via stock.xchng, and gratefully used under Creative Commons licenses:
sundstrom, stroinski, airfin, marekwo, dropowtt, joaan, tvanthiel, vimark, mordoc, nishka, nicholaspr, jjarv
One photo is by flickr photographer dkwonsh, and edited with permission.
Technical
The game runs on Windows, Linux x86 and Mac OS X. In all cases it requires a screen size of at least 800x600.
Controls
The controls should be pretty obvious, but just in case, here they are:
To do this:
Keyboard:
Mouse:
Advance text:
Space bar or Enter
Left mouse button
Make a choice:
Arrow keys and Enter
Left mouse button
Game Menu, for saving and loading
games and changing preferences:
Escape
Right mouse button
Roll back:
Page Up
Mouse scrollwheel up
Hide the text box:
H
Toggle full-screen:
F
Change preference in the game menu
Skip already-seen text:
Press Tab
or hold Ctrl
Right-click, then click "Begin skipping"