Elven Relations II:
Mermaid Liaisons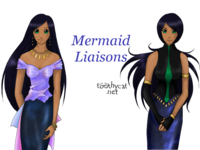 Welcome! Mermaid Liaisons was a planned ren'ai game, the sequel to Elven Relations.
The Game
Two years after the events of Elven Relations, Takuya, Kei, and their friends get caught up in a new diplomatic incident, this time involving the merpeople of the Southern Ocean. The playful ranger Kei will have to negotiate with mermaids for the sake of politics and romance, and perhaps even find a girl to make him change his roving ways.
Mermaid Liaisons continues from the story of Elven Relations, and will detect which Elven Relations endings you reached, in order to continue the story from them appropriately. If Kei got together with a girl at the end of Elven Relations, then he'll start Mermaid Liaisons still with her, and the challenge will be not to find love, but to keep hold of it!
Mermaid Liaisons is a visual novel: gameplay consists of reading the text displayed, and choosing from options at certain key points. The direction of the plot and how the game ends are thus under the player's control.
It's a romantic fantasy story split into 6 anime-style episodes.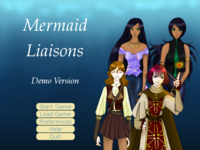 Demo
A demo of the game is available! Download the demo for Windows / Linux x86 / Mac OS X (each distribution is about 10 megabytes)
Preview Art
The game is currently unlikely to be released. However, the following artwork was released on the development thread:
Release Date
I'm afraid development of the game is currently on hiatus. The game's release is currently unlikely. Contact Alex for more details.
Tell us what you think!
Looking forward to Mermaid Liaisons? Discuss the game on its ToothyWiki page or its development thread! You can comment on either without any form of registration.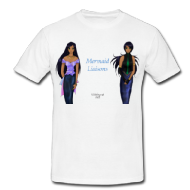 T-Shirt
Want to get high-resolution Mermaid Liaisons art on a T-shirt? Of course you do! You can buy one from our spreadshirt.net shop!
Credits
The game is copyright Alex Churchill (chronoluminaire). All character, background and CG artwork is copyright Morag Lewis (SunKitten). For more of SunKitten's work, visit www.toothycat.net!
The game is written in Ren'Py, an engine designed to make writing visual novels and ren'ai games very easy.
Technical
The game will run on Windows, Linux x86 and Mac OS X. In all cases it will require a screen size of at least 800x600.