ec2-44-192-79-149.compute-1.amazonaws.com | ToothyWiki | RecentChanges | Login | Webcomic

---
Arguably, the greatest sim of them all. A source of JustOneMoreTurnSyndrome.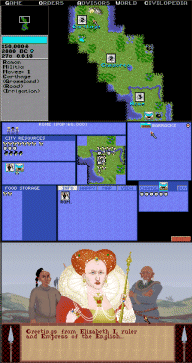 Argh, why did you have to show that British hag. The Egyptian one was hot. --Mjb67

Spawned many, many sequels and spin-offs, inlcuding CivilizationII? (better), CivilizationIII? (much worse), Colonization (Civ in the NewWorld? - a lot of fun) CallToPower? (worse in it's original form, modded to something very playable), CallToPower2? (ditto), AlphaCentauri (properly Sid Meier's Alpha Centauri, hence known as SMAC - supposed sequel to Civ, very playable), and it's expansion AlienCrossfire? (hence SMACX, SMAX or just AX or ACX. A very reasonable addition).

CivilizationIV? is slated for a November 2005 release. Only time will tell if they've improved markedly on Civ3

ChrisHowlett's personal view is that SMAC/X is/are the pick of the bunch

---

Also: Something that the Americans have "The greatest in the world" - they keep it in a small bottle under the Nevada desert, in case they get any on them.

---
CategoryComputerGames
---